Microfiber cloth for cleaning. Why I like them? because they are very easy to use, cleans much better and effectively than simple cotton cloth. It literally sucks the dust and gives shine. They looks new after many uses. You can use then anywhere and sparkle anything just with a damp microfiber cloth without using any harsh chemicals.
For dust free home microfiber cleaning cloth is really essential.What is microfiber?
Microfiber is a synthetic material made from petrochemical which includes polyster and nylon. Many times we use it to clean eye-glasses, computer screen etc. but they really works well on any surface needs cleaning. You an use them as your regular cleaning cloth for all your household cleaning.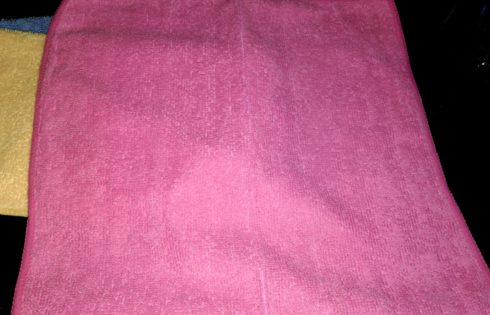 Where to use Microfiber cloth?
You can use it on anything required cleaning. You can use it to wipe / clean your kitchen platform, stove top, microwave, food processor, dining table, doors, kitchen sink, washed plates, kitchen trolleys, faucets etc. It can clean glass, mirrors, appliances like TV, Fridge, Washing Machine, Dish Washer etc.
Using microfiber mop you can easily mop your floors shiny. Clean doors, windows and much more.
I use my microfiber cloths everywhere. I have purchased few microfiber cloths in different colors so I can classify them easily and not end up using kitchen wipe to clean TV 🙂 . I use pink one to clean mirrors, windows, TV and furniture. Blue is used for Dining table and chairs. Yellow is in kitchen counter, stove top etc.
How the microfiber cloth is better than traditional cotton cloth?
It is better than cotton cloth because –
It holds lot of water, so you can easily clean the milk or water your kid spills here and there 🙂
It is very easy to clean just hold it under running water and rub with your hands and it will all clean for next use.
It have split fibers which helps to grab dust and other particles more easily.
It won't scratch or damage delicate things or surfaces.
No need of extra harsh chemicals for cleaning, microfiber can shine your supplies with just a few drops of vinegar in plain water.
It not only clean but also shine or polish the things.
Removes dirt, fingerprints very easily.
Most essential is they are environment friendly and very economical, since last 1 year I am using the same microfiber cloth and it's still looks new after hot water wash.
Where to purchase / buy microfiber cloth?
You can find microfiber cloths in cleaning supplies section on any Mall like Big Bazaar, D-Mart etc. or you can also buy them online, when I don't have time to go out or I want many color options then I purchase the microfiber cloths from here.
You also use microfiber for cleaning? So if I missed any topic please add it in comments…
Happy cleaning 🙂