Every morning after waking up the first thought come to my mind is what to make for breakfast? sometimes I think why we don't have a holiday for eating? think about a day without cooking!!! No cooking means no dirty dishes, no preparations.
This is not possible so on weekends I plan for the breakfast menu which is quick and delicious like masala egg, cheese omelette or sabudana khichadi / sago snack. These breakfasts are quick to make and very yummy so everyone enjoy it on weekends.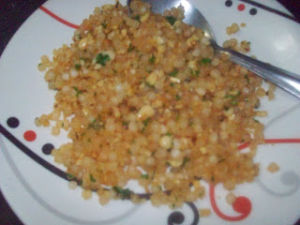 Sabudana (Sago) Khichadi is one of favorite breakfast dish in our home and the main thing is its very quick to make if you are planned. You need to soak sago in night and prepare some crushed peanuts so you can make this within 10 mins in morning.
2. Add red chilly powder, I use chopped green chilly or red chilly powder (I use red chilly as my son don't like green chilly version), salt, sugar, lime juice and mix properly.
3. In a non-stick pan heat oil. Add sago mixture and saute for one minute on medium flame.
4. Turn the gas on low flame and cover it for a minute.
5. After 1 minutes remove lid, mix the sago, add coriander leaves, mix properly and cover for another minute. After 1 minute mix the sago and serve the yummy sago khichadi with curd or enjoy it with tea 🙂