Roti Pizza / Tiffin recipe / Healthy snack for kids / Under 15 minutes pizza / Step by step pictures
Summer vacations are started and kids are at home for full day. Kids are never interested in daily sabji+roti+dal+chawal meal, they always want something nice and yummy. Its a big question for mom that what to make something nice, yummy and healthy. My son also wanted something nice and yummy for his evening snack.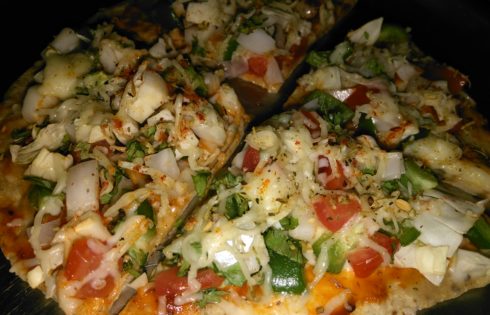 I always make extra rotis when I make rotis / fulka for lunch, so that I can make a quick snack like roti sandwich, roti samosa, roti chips, roti noodels, ghee roti, roti frankie, roti wraps, roti egg strips, roti upma, roti ladoo etc. but this time my little one didn;t wanted anything from these . So mom needs to be innovative and its time for inventing new roti recipe 🙂
Mom on duty, opened the fridge, grabbed some veggies, some seasonings and started thinking. And pizza came in mind, pizza is always favorite snack of almost every kid. Roti Pizza will be healthy and yummy snack so decided to making it using roti as a base.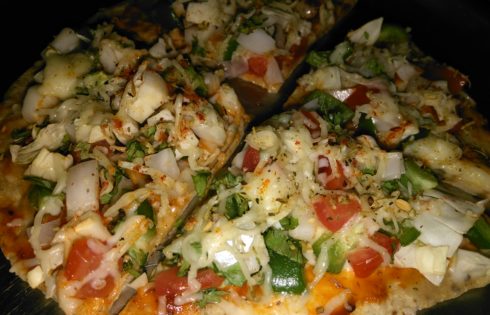 Roti Pizza step by step recipe
2017-04-29 04:20:04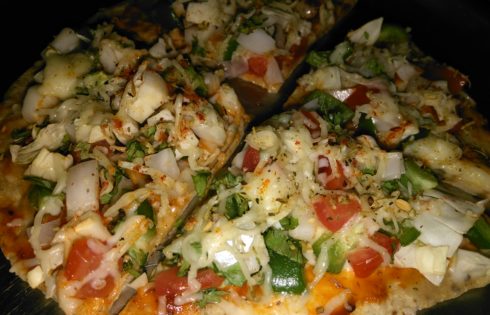 A healthy snack or tiffin recipe. This is healthy as contains lot of veggies and cheese.
Nutrition Facts
Amount Per Serving
* Percent Daily Values are based on a 2,000 calorie diet. Your Daily Values may be higher or lower depending on your calorie needs.
Ingredients
One fulka
Shredded cheese - 3-4 tsp. or as per taste
Peanut Butter 2 tsp. or as per taste
Cheese Spread 2 tsp. or as per your taste
Thinly sliced Mix veggies - 1 small cup or as you like (I used cabbage, tomato, capsicum, coriander leaves, onions or as per your choice)
Pizza sauce - 2 tsp. or as per taste
Pizza seasoning and red chilly powder as per taste
Instructions
1. Take Roti / Fulka on a flat plate.
2. Spread peanut butter or simple butter on the roti.
3. Spread cheese spread on it.
4. Spread pizza sauce.
5. Spread veggies on sauce.
6. Sprinkle shredded cheese over veggies.
7. Sprinkle pizza seasoning, red chilly on cheese.
8. Heat oven for 3 minutes on 180 degree, convection mode.
9. Cook Pizza for 5-6 minutes or till done or cheese melts. Time depends on your ovan.
Cut and serve with sauce or have as it is.
Enjoy the delicious and healthy snack.
Notes
You can use simple butter in place of peanut butter or some oil if you run out of butter.
You can use the veggies as per your choice.
You can also cook this pizza on tawa or pan, heat the pan, spread some oil or butter over it,add pizza and cook covered on low flame until cheese melts, after 2-3 minutes check and if not melted cook for more 2-3 minutes.
V's Little World http://www.vslittleworld.com/
Here's step by step recipe with photos :-
Take all ingredients – Cheese spread, roti / fulka, pizza sauce, pizza cheese or you can also use cheese cubes, peanut butter, pizza seasoning, chopped veggies. I have taken cabbage, capsicum, onion, tomato, coriander leaves. You can use any veggies you have like shredded carrot, cauliflower and as you like.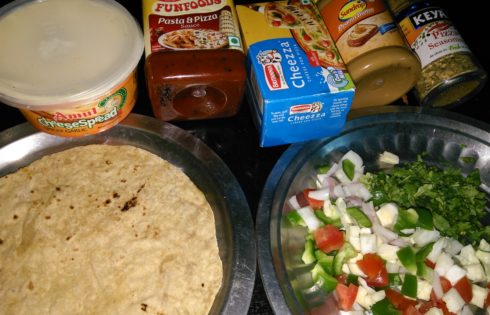 Take roti on a flat dish, spread peanut butter or simple butter or oil on roti.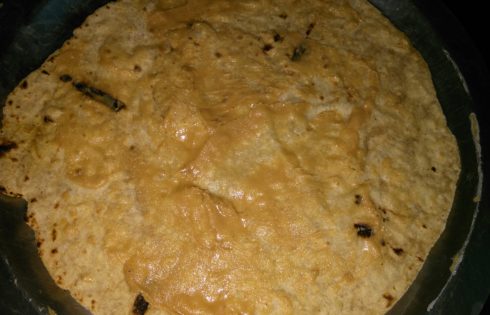 Add cheese spread over peanut butter.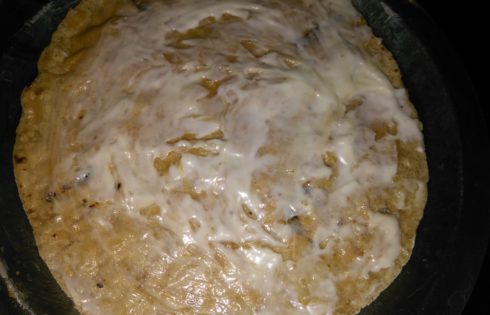 Over cheese spread add pizza sauce and spread evenly. Take it as per your taste more or less.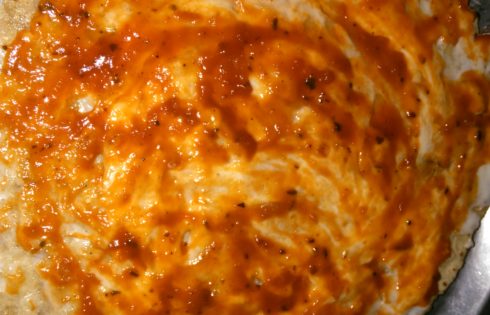 Spread veggies over pizza sauce.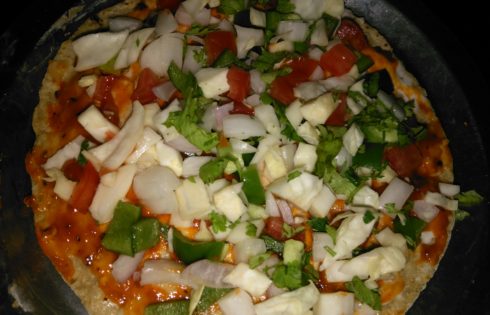 On veggies add shredded cheese, you can add more or less as per your choice.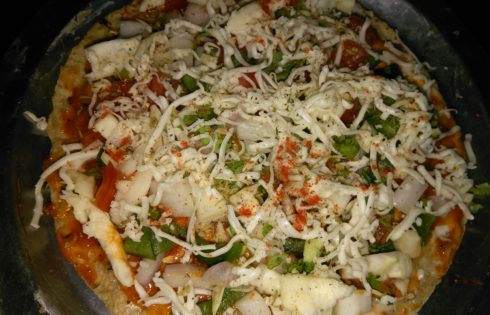 Cook the pizza for 5-7 minutes (time depends on your ovan) or until cheese melts.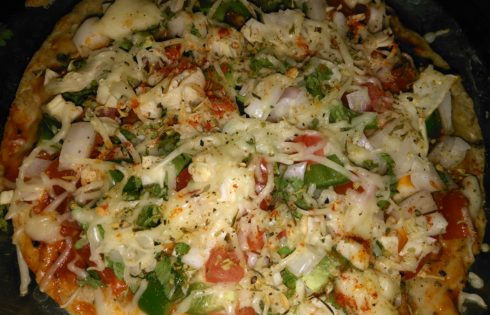 Cut the cooked pizza and serve with sauce or enjoy as it is.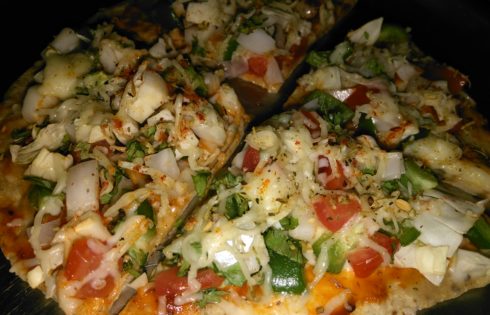 To pack pizza in tiffin cool it and then pack. Serve kids in evening snacks.
This is very healthy and yummy and kids enjoy this yummy treat and kids are eating roti with sabji so moms are happy too 🙂
Try this easy recipe which you can make in 15 minutes if you have roti and share your experience 🙂