Remedy for Under eye dark circles
Around 95% of people experience under eye dark circle at different stages and search for a remedy desperately as it is really unpleasant to see in the mirror! If you are passing through that condition now, I can feel your pain!
Have you tried a lot of chemicals or so called eye creams and ended up with frustrating result? Probably the answer is "Yes"! Because you may not have a clear idea about the ingredients that can solve this problem. And it is true that only even a great eye cream can't solve this problem alone. You must have to take other cares too.
Actually the skin around your eyes is extremely sensitive and it need keen and perfect care. You should never apply so called available eye creams usually. You must have to know about the essential ingredients that can solve this problem. Here is the best and smart solution for you. If you are able to follow these tips properly you can expect a prompt result that will satisfy you indeed
You are welcome to try these inexpensive remedies, which will work the best and will almost instantly shrink and remove dark circles under the eyes. You have to take two types of care internal and external to get prompt result.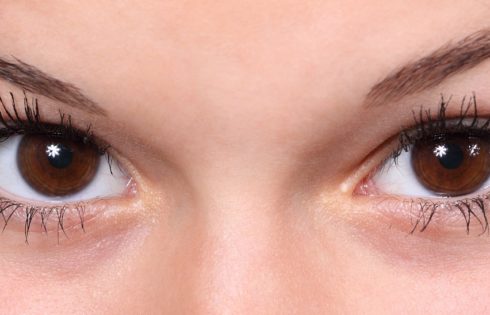 Internal care:
Drink plenty of water:
Never let you remain thirsty. Have at least 8 glasses of water on daily basis.
Eat plenty of foods and vegetables:
Eat a lot of fruits and veggies that are enriched with vitamin and minarel to boost up your skin.
Have balanced and healthy diet:
Always try to eat balanced and healthy diet. Avoid junk foods and unhygienic foods of road side.
Also Read : Some Tricky Makeup Tips for Brown or Wheatish Complexion
External care:
Try cucumber:
You can use cucumber in many ways while taking rest. You can just slice it and can place it on each eye for 15 munities. You can also make paste of cucumber and can use a coat on each eye. It helps to draw out hemoglobin and waste supplies that cause under eye dark circle.
Honey, milk and almond paste:
Mix same proportion of milk, honey and almond paste and coat the dark under eye skin. Leave it for 2 hours and then wash genteelly with normal water.
Apply cold tea bag:
After using tea bags don't through it out, keep it in the normal refrigerator for few hours and then use it on eye directly. Just place it on eyes and keep it for 15/20 minutes.
Select eye cream enriched with following supplements:
Focus on these supplements while you are going to use a brand eye cream as a part of your total process. Just look for these supplements'' availability in the cream, read the label well.
Hyaluronic acid: that holds water for our skin
Collagen and elastin: Collagen builds skin cells and elastin maintain the elasticity of skin
Ayeliss and haloxyl: These substance works for removing the fluid that gathers under eye and cause puffiness.
By following the tips above and using eye cream that contains the mentioned ingredients you can smartly handle the problem.