Modak Recipe / Yummy Sugary Modak Recipe / Modak in Sugar Syrup /
Modak, it's a Ganpati Bapppa's favorite sweet, not only Ganpati Bappa but we all love these small sweet dumplings. There are varieties of Modak, Ukdiche Modak, Mawa Modak, Dry Fruit Modak and many more.
Today I am sharing one different modak recipe. I don't know what to call them but I deep them in sugar syrup to make them sweet so we will call them Sugary Modak Pakatle Modak / Modak in Sugar Syrup or anything you like, after all modak is modak and we love it in any form right?
So Let's start with recipe, these modak's get ready within 45 to 50 minutes. Sorry unable to take photos while making 🙁 but will share step by step photos soon as the first batch is already finished and my kid is asking for more 🙂
Sugary Modak / Pakatle Modak Recipe
2017-08-28 12:25:11
Nutrition Facts
Amount Per Serving
* Percent Daily Values are based on a 2,000 calorie diet. Your Daily Values may be higher or lower depending on your calorie needs.
Ingredients
1 Cup Maida / All purpose flour
1 Cup Sugar
1/3 Cup Ghee / unsalted butter
1/4 tsp Baking powder
1/3 Cup Water for kneading the dough
Water to make sugar syrup.
a pinch saffron threads
1/2 tsp cardamom powder or 2-3 cardamom pods.
Oil / Ghee for frying
Dry fruit powder for filling and decoration.
Making Sugar Syrup
In a pan add sugar and water to coat sugar.
Add saffron thread in sugar water.
Add cardamom pods / powder and mix it well.
Cook the sugar syrup on medium heat, stirring in between until thick.
Making dough
In another bowl add maida / all purpose flour.
Add and mix baking powder in it.
Add ghee or unsalted butter and mix it well the mixture will become crumbly.
Add water and mix it, just mix it well don't knead it.
Keep it aside for 15-20 mins.
After 15 mins mix the dough properly.
Flatten it with hands and again mold it in half and again mold in half.
Again flatten the dough and again mold it in half and then half.
Do this 4-5 times so the dough will get many layers.
After 4 times flatten it and shape it in a roll or cylindrical shape (see images given below the recipe)
Cut the pieces of roll like we make for bakarwadi.
And again cut them in half.
Make small balls of each shape, flatten it, fill some dry fruit powder in it.
Give it shape of Modak.
Heat ghee or oil in a deep pan and fry the modak until golden brown.
Don't turn the modak frequently while frying, let the first side get brown then turn and cook another side.
Once the modak turn golden brown, deep them in sugar syrup.
Make sure sugar syrup must be warm and not hot when you add the modak in it.
After 3-4 minutes take the modak in a plate and garnish them with dry fruit powder.
V's Little World http://www.vslittleworld.com/
Please see images below, will add pics soon.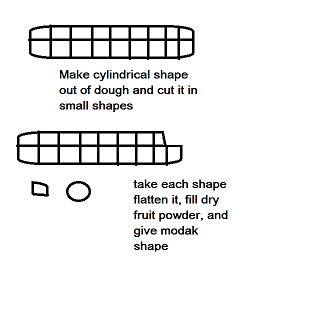 These modak's just melt in mouth and turn out so yummy 🙂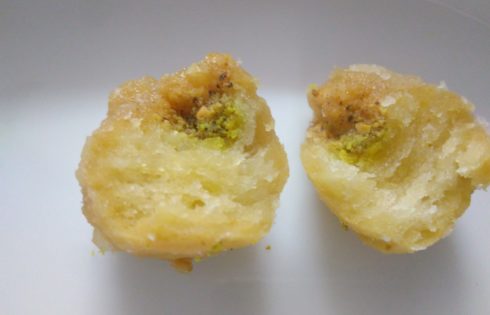 Make these modak's for your Bappa and let me know your thoughts 🙂