Instant Kalakand / Milk Burfi Recipe
Summer is knocking, I hope you all are enjoying cool desserts like coffee jelly, ice-cream right :). After so many days I am back with a quick and sweet recipe for you. In summer because of hot weather milk gets spoil easily and we end to make paneer bhurji or just throw it away if running out of time.
Yesterday same thing happen with me, my 1 liter milk get spoiled, so what to do with it? I thought to give a try and use my MW to make something sweet. My DS likes sweets and so any sweet gets finished easily in my home. I tried and it turned out very yummy. Try this kalakand / milk burfi recipe and you will like it too 🙂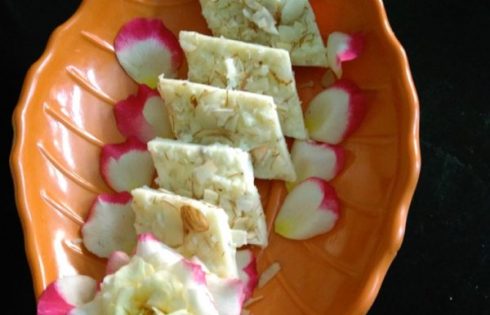 So let's start with recipe
Instant Milk Burfi / Kalakand
2017-04-11 06:52:11
A simple to make and quick dessert made with crumbled milk / paneer. This is a great way to use spoiled milk to make a delicious dessert.
Nutrition Facts
Amount Per Serving
* Percent Daily Values are based on a 2,000 calorie diet. Your Daily Values may be higher or lower depending on your calorie needs.
Ingredients
1 liter spoiled milk / crumbled milk / grated paneer appox 300 ml / 2 1/2 cups
Milkmaid 1 cup.
Cornflour 1 tsp.
Cardamom powder / Elaichi Powder 1 tsp.
Almond flakes / any dry fruit crushed for decoration.
Instructions
First strain the water from the spoiled mil.
Use a strainer and strain all the water from it, you will get paneer / crumbled milk extract.
Take a MW safe bowl
Add crumbled milk extract, milkmaid and mix it well.
Add cardomom powder and cornflour mix it well.
MW the mixture on high for 5 minutes.
Stir it and again MW for another 4-5 minutes, your room will get filled with sweet aroma and its a sign that its cooked.
Meanwhile grease a deep plate, square preferred but any plate will do.
Add the cooked mixture to plate and flatten it with a spoon.
Decorate with almond flakes or any crushed dry fruits.
Refrigerate it for 15-20 mins to set.
Cut the pieces as per your choice and enjoy.
Notes
**If don't have milkmaid use 1/2 cup milk and 2-3 tsp sugar (as per your taste)
**You can also make this on gas stove, use a thick bottom vessel and cook this mixture while stirring continuously on low flame till it becomes thick and set as said above.
** Time depends on your MW brand and its temperature my MW high temp. is 900, check yours and set time accordingly, I have 2 1/2 cup crumbled paneer if you have less the cooking time will get changed accordingly so first cook for 2 minutes check and then another 2 mins.
**Do not set in freezer or it will get hard.
V's Little World http://www.vslittleworld.com/
This is very quick recipe, you can also use paneer to make this if you don't have crumbled milk OR you can crumble the milk using vinegar / lime juice. Kids love this burfi, this is a healthy option for giving as a mid-day snack or in tiffin as a sweet. You can also make kalakand / milk burfi for guests.
Because of summer holidays kids are at home and need something to eat whole day. This is a good option to make and store in fridge. You can also make mix dal ladoos and store them to give a delicious healthy snack to your hungry little one.
I will share step by step images soon and also a gas version too 🙂
Try it and let me know your views 🙂 if have any questions use comment section.