Homemade Wheat Mix for Babies / Homemade Health Supplements / Homemade Premix for babies or kids.
Instant Food Mixes / homemade cereal are important as the child needs to be fed 5-6 times a day. These can be easily prepared at home and stored in air tight containers for at least a month . These homemade cereal are very easy to make and very nutritious for kids and babies. You can also carry them in travelling.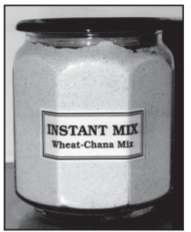 Recipe: Homemade Wheat Mix
Ingredients :
Wheat flour (Whole) 2 cups
Bengal gram (Roasted & de-husked) 1/2 cup
Groundnut (Roasted) fistful (avoid if baby have nuts allergy)
Method of preparation :
Roast wheat flour.
Remove the skin of groundnut.
Make powder of roasted Bengal grams and groundnut.
Mix with Wheat flour thoroughly.
Store in a dry airtight container.
How to make this INSTANT INFANT FOOD MIX FOR FEEDING
Take about 4 Table spoons (50 gms.) of mix. Add 100 ml of boiled hot water to get a thick consistency. Add a tea spoon of oil and sugar/jaggery/ghee to increase the energy content. Feed the infant with the spoon. The instant infant foods could also be fed to the child after reconstituting with dal, water, gravy, milk etc. Mashed fruit (Banana, Chiku, Papaya, Mango, etc. could also be added to the food).
This can be easily prepared at home and stored in air tight containers for at least a month.
Nutritive Value Per 100 gms :
Calories 377
Protein 16 .1 g.
Iron 5 .54 mg.
Carotene 41 .93mg.
Check more premixes recipes here
Information Source: Food and Nutrition Board Ministry of Women and Child Development Government of India, (P. Bolina) Joint Secretary Ministry of Women and Child Development Contributoors: Field officers of FNB namely Shri P. Sundararajulu, Smt. Veena Thakur, Smt. Anju Dhull, Smt. Mitali Palodhi, Smt. Swapna Chakraborty, Smt. Shashi Sawnani, in providing local recipes and the Headquarters team namely Dr. Jai Singh, Smt. Surindra Jain, Smt. Anita
Makhijani, Smt. Senh Lata Jain and the Ms. Shanti Singh.