You have created your new blog, if not then you can follow step by step tutorial here. The next step is settings for your blog. It is essential to select appropriate settings for your blog. In this post we will discuss some necessary basic settings for starters.
Follow the steps given below to select appropriate settings for your blog.
Step 1 – Basic Settings
So to update your blogs settings go to www.blogger.com -> click on your blog name -> Click on Settings -> Basic (see image below), click on Edit before "Description" and add a good description of your blog, write down what your blog is about etc.
In Privacy make sure its "Listed on Blogger. Visible to search engines"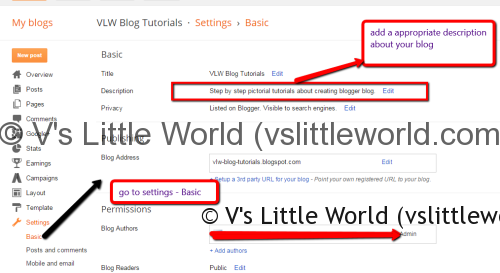 Step 2 – Posts and Comments Settings
After basic settings click on Posts and Comments – here you can update the posts and comments related settings. (see image below)
In first option you can select the no.s of posts to be shown on main as well as each page. You can select 5 to 6 posts.
In comments settings make sure the comments form is embedded below each post so select "Embedded"
In Who can comment? select "Anyone" so all of your readers can share their views and comment on your post.
In Comment Moderation select "Always" so every comment posted on your blog will not get posted without your permission, many spammers post comments on blogs so to avoid unnecessary and unrelated comments its necessary to check comments before posting.
Add your "Email Id" on which you want to receive all the new comments.
In word verification select "No"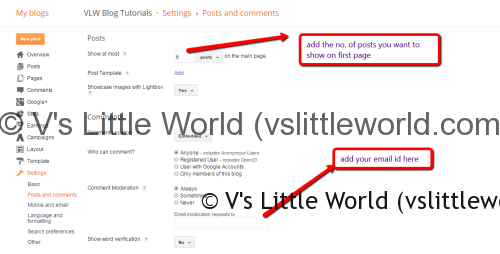 If you want to add any personalize message before your comment form then you can add it in "Comment Form Message"
Now click on "SAVE SETTINGS" to save all posts and comments settings.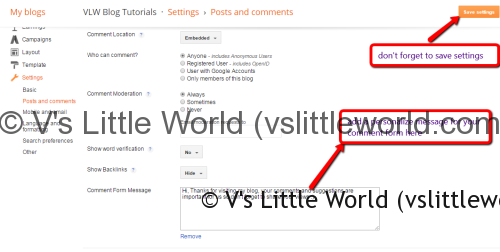 Step 3 – Language and Formatting
In Language settings select your preferred language in which you are going to write your blog.
In formatting select your time zone, date, time format which you want to appear in your blog posts.
Select comment time stamp format which will show in your comments.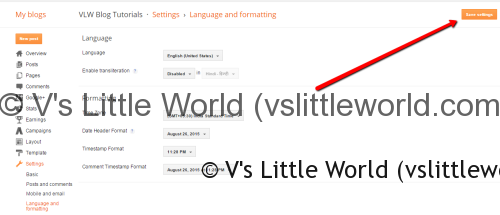 Step 4 – Search Preferences
In search settings add appropriate description for your blog. This description will appear in search engines for your blog.

We have completed all basic settings for our new blog and now we will think about design of our blog.