Are you a food lover? Are you aware of the best food in your locality? Well, we are very fond of eating burgers and pizzas at famous outlets. But, do we really savour local food? Believe me, local foods are a real treat for your tongue!!!
There can be many popular local dishes as snacks, desserts, breakfast, lunch or dinner, that you don't have information about! If you know about them and want to tell other people, how will you do that? In this digital world, nothing is impossible.

Why eat local?
Local food reaches us quickly.
It reaches us in the fresh state. Fresh food taste delicious.
It supports the business of local vendors.
You trust local food more as the local vendor can always tell you about the quality.
It saves time, energy and money.
Local Vendor needs a platform to promote them
Local vendors face many problems while attracting new customers. The customers don't have information about their popularity. Now the time has gone where the local vendor does their marketing merely through word of mouth! The traditional ways of promotion through the neighbourhood aunty are not going to work more!
Digital platforms that connect customers and vendors are crucial. Vendors will promote their local dishes and customers will come to know about the local delicacies present in their locality.
Digital promotion is the need of the hour
Having their own online identity is quite important. There are many unorganized local food vendors who are not able to promote themselves through the digital medium. This is because they are not aware of it. Even if some of the vendors are aware, they don't know how to go about it.
Today's world is going digital. We spend a lot of time on our smartphones, tablets, and laptops. So, having information through the digital medium is the need of the hour. We are in the habit of ordering everything with just a click. These unorganized local vendors must be within your reach.
So how to find local vendors then?
Don't worry I will like to share a very useful app with you, which will help you in your search 🙂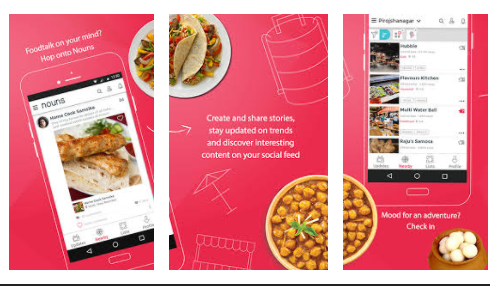 Nouns, this app provides these unorganized local vendors with a digital identity alongside established food spots. Food should be democratic, so our aim is that their services must get noticed and they should be able to build a loyal customer base.
With Nouns, you are able to locate nearby food eating joints, find menus, timings, pictures, and videos. Being a social platform, you can also provide your feedback and share experiences.
You can download it on the Google play store here.
So, enjoy your lip-smacking delights by going local this season. Happy eating!!