Today I am going to write about Alphabet Stickers activity for kids / toddlers. It's an educational activity as well as interesting in order to engage kids.
Keeping kids busy is a hard task, at least for me it's really hard as my son don't like to play with toys. He either wants mom or dad to be with him to play and teach him to draw or read.
It's good that he likes learning and because of his love for learning. He is ahead than the kids of his age, but it didn't give me extra time for my work
So in order to make him busy, I buy some alphabet stickers. You will get these in any stationary store. It costs somewhere between 5 and 10 Rs. for a sheet, the price depends on the quality of stickers etc.
No need to buy fancy stickers as you know kids will throw them away after playing or the sticker will not remain in condition to use again next time
You will get the alphabet stickers cheaply if you buy the full bunch / pack.
So to make your toddler busy take a plain paper write down A to Z on it, make sure to write big letters so that your kid can easily match the sticker with the written alphabet.
If it is first time when you give teach this activity, then first show your kid how to take out the stickers from sticker sheet and how to stick them.
Here is the pic of alphabet stickers sheet and plain paper, my son has stick some letters on it before I take pics.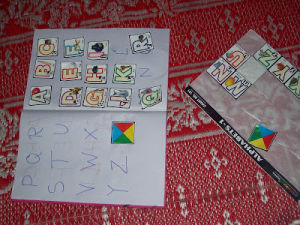 My son playing with alphabet stickers, it will keep your kid busy at least for 15 to 30 min.s, I hope so 🙂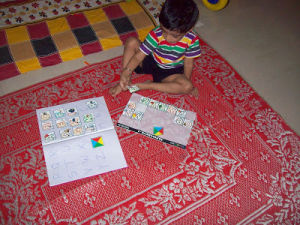 You can also use this activity to teach alphabets, numbers, colours etc. to your toddler.
You have kids? so you must know some activities or ideas to make them busy? don't forget to share your activities and ideas 🙂
Also checkout other activities for kids here.